What is a Lift Chair, and Who Can it Help?
People often think about accessibility issues in public spaces. From designated parking spaces to incorporating ramps, handrails and handicap-access buttons for doorways, "accessibility" is always a hotly-contested topic when out and about.

But in your home, all those concerns fade away — or, rather, they should.

Your home is a unique space because, as much as their design is predetermined, you still have the ability to customize, personalize and make it fit your needs.

So it may surprise you to learn just how many individuals age 65 and over have trouble accessing normal, home-based functions.

One in three adults over the age of 65 has a hard time using features of their homes they've taken almost for granted.

That includes getting up and down from their favorite chair – something that should be relaxing and safe.

But it doesn't have to be this way – and this blog post will share the secret of why lift chairs can help you enjoy your home to the fullest!
What is a Lift Chair?
Lift chairs are seated, cushioned furniture pieces that closely resemble recliners. The biggest difference is that they can bring those who experience ongoing mobility issues into a semi-standing position that makes it easier to get up from sitting down.

And as more people live to older ages, more of them are taking their comfort into their own hands. Motion sofas (i.e., lift chairs) are poised to hit $6.4 billion in annual sales by 2023.

Why?

For one, you can use them for comfort. But this is where the "motion" in "motion sofas" truly comes in: Lift chairs are primarily designed to provide access for those who need assistance rising into a standing position.

But they go beyond being a good solution for mobility. They're also very, very comfortable.

Design decisions that go into creating a lift chair bring together features and engineering from three specific types of related seaters, each with an intended use:
Recliners — made primarily for rest and relaxation

Massage chairs — intended as a supplementary, on-the-spot form of "therapeutic" aid

Wheelchairs — designed as mobility and accessibility aid
Lift chairs combine aspects of all three because it has a base that literally "lifts" and moves the user from seated to standing. It also has the therapeutic effects of heat and even massage, in some models, while also featuring footrests and reclining backs.

But how exactly do these chairs work? Let's explore that next.
How Does a Lift Chair Work?
As you can see in the images below, the up and down feature on the lift chair's built-in stands is what makes this seating arrangement so uniquely dynamic: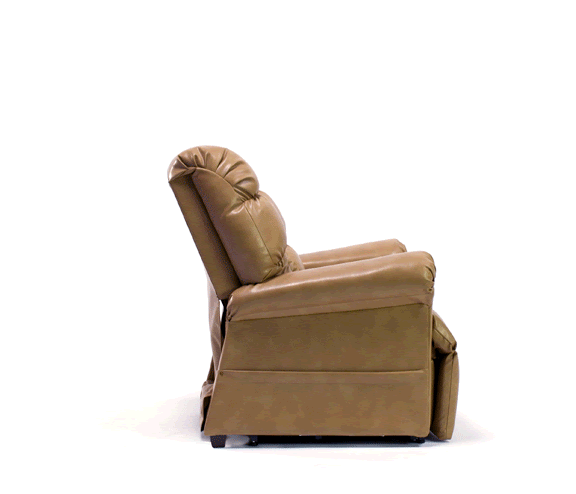 While plenty of individuals use the mobility feature of the "sit to stand" automated device every day, some use it specifically for aiding with post-surgery movement or when recovering from an illness or injury.

This, coupled with a motorized footrest and backrest, allows the user to essentially control the degree of movement from the base, the tilt on the backrest, and the elevation of the footrest.

A handy, pre-programmed remote-control helps the user operate the chair to a high-degree of customization.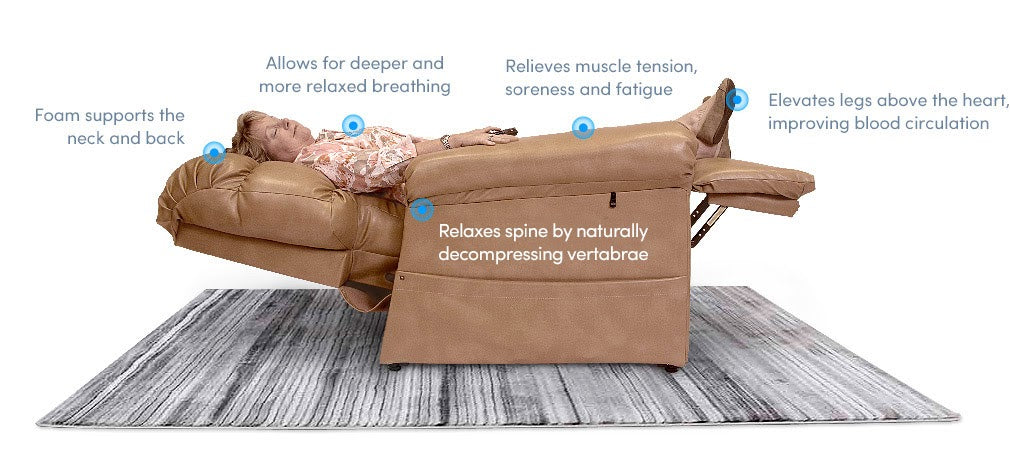 So while it is a chair, functionally-speaking, the lift chair can be made into a sleeping recliner — one that, thanks to the independently-operated footrest, can elevate the feet above the heart.

This is known to help with breathing and cardiovascular issues, as well as be a great aid when reducing stress in the body or pressure on the lungs.

Lift chairs are not just for the elderly or the aging, however. Because of their multiple features and their combination of therapeutics, mobility aid design, and relaxation promotion, they carry benefits for everyone:
Can allow patients recovering from injury, illness, or surgery to move from sleeping to standing, on their own, without needing the constant assistance of another, and without risking further strain

Making use of the movable backrest and elevated footrest allows the user to the position the chair for zero gravity, which is an angle and elevation that takes all pressure off the joints and muscles

Relaxes and elongates the spine, decompresses the lungs, and promotes overall body wellness

Improves blood circulation, especially for those who experience issues with poor blood circulation, shortness of breath, etc.

Perfect for those who need heat therapy on their back and neck muscles
The Importance of Design For Lift Chairs
When looking at which features customers truly desired in their recliner, one study showed that stain-resistant fabric, additional back support, warranty, and safety mechanisms topped the list of users' priorities.

Less important were things like cup holders, exposed wood, or having a matching ottoman: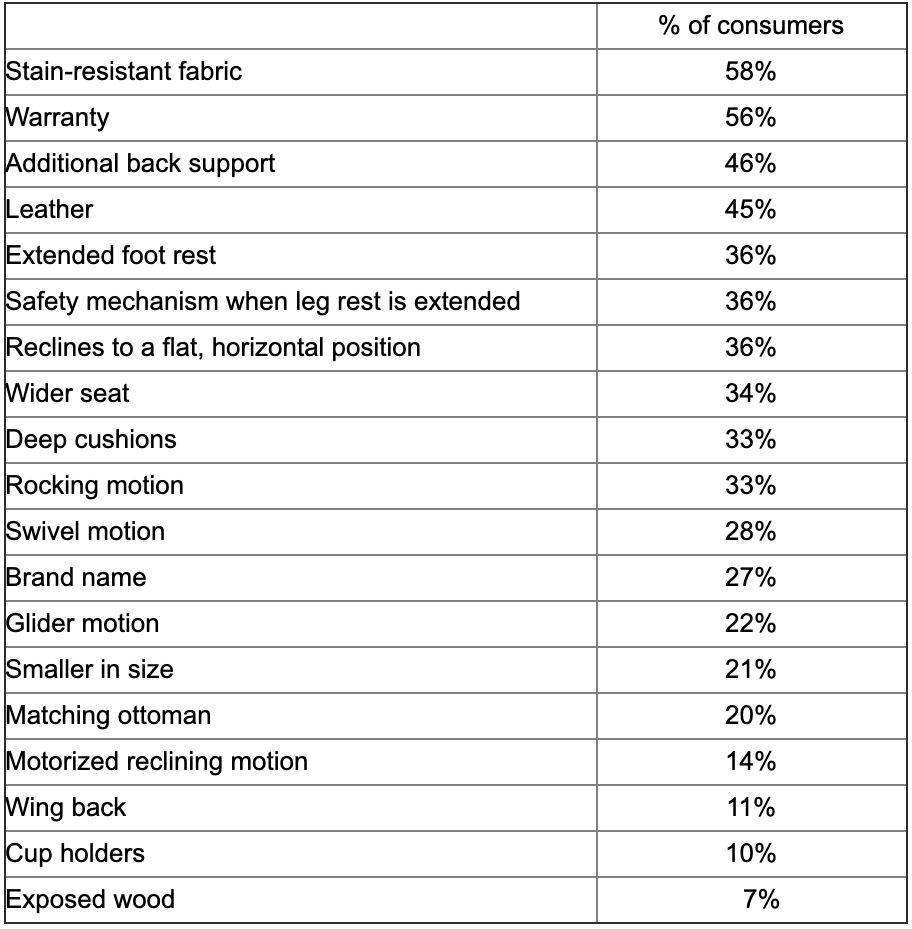 Image Source

In other words, function, durability, and safety are top-of-mind when looking for the right power lift chair. These are the non-negotiable must-haves that should come standard on all life chairs you're considering:
- Stability from the base, as you get on and off, that doesn't allow the chair to move or tip over

- Remote control functionality and a smooth transition from sitting to standing

- Durability in frame and stress points of the chair

- Comfortable cushioning throughout seat, backrest, and armrests

- Neck, back, and head support

- Extended footrests, especially if you have longer legs

- Fabrics that are easy to wipe down and protect against spills, bacteria, and/or moisture
- Infinite positioning, ranging from seated upright, to completely laying flat

- Heat and massage operated via remote control

The rest is just details.
Are Lift Chairs Eligible for Medicare?
Because of their dual role as a relaxation aid, as well as a mobility tool, many users want to know if Medicare can cover lift chairs.

There are extensive laws and regulations around Medicare coverage when it comes to chairs for the elderly. In short, the answer is, "yes," but only if the purchase and prescription of the lift chair follows certain rules.

For example, a doctor prescribing the lift chair as a response to a condition like severe arthritis or a neuromuscular disorder will have to be a Medicare-enrolled doctor.

So as long as you follow and meet the guidelines for Medicare support, you might be able to get up to 80% of your purchase covered.

Your best course of action would be to look into it if you're eligible for Medicare – and then get to relaxing!
5 Considerations to Help You Choose the Best Lift Chair For You
Now that you know what a lift chair does, who it's for, and what design features are essential, you might be ready to start thinking about choosing the right lift chair.

With that in mind, here are five considerations you need to keep in mind when shopping for a power lift chair:
1) Will You Be Eating and Drinking in Your Chair?
Some users will only ever use the chair as a means of de-stressing after a long day. Or, better yet, as a substitute for their bed, as the chair promotes deep sleep with deeper breathing.

For others, it's a mobility aid, especially if they're experiencing trouble going from sitting to standing, or they're recovering from surgery.

But in many cases, this will be a chair that sees a lot of daily use. You'll be eating meals in comfort, which means you need to consider upholstery that's spill-proof and easy to clean.

It may sound like a simple fix, but this point makes a huge difference in your daily life and comfort!
2) Will You Have Pets In or Around the Chair?
Pet's are the world's most perfect companions, but even then they can sometimes do a number on your furniture.

For instance, cat hair can be a pain to clean out of certain types of fabric. And cats are also known to occasionally sharpen their claws on your favorite chair. The last thing you want is your curious kitty using the back of your chair as her personal jungle gym.

And dogs and cats alike love to accompany their owners when sitting, so you may either need a wider seat or a chair that will bear more weight.

So keep your pets in mind when making a decision, and pick something that's right for everyone!
3) Your Intended Use For the Chair
Not all power lift chairs are "infinite-position" chairs. This means that some have limited, pre-programmed settings. These are known as limited-use and only have two positions you can reach already built in.

And that's fine if your use is limited. But if you're planning to use it as your primary seat in your living space, as a bed, or as a mobility aid, you're better off opting for an infinite position chair.
4) How Much Space Will You Have, and Where Will You Keep It?
You want to position your furniture so that you're not blocking off access to other parts of the living space or creating "narrow" walkways. Keep ample space for walking and moving.

Your power lift chair will also need some room to lift-off and tilt forward when moving you from seating to standing. So definitely avoid positioning it near a wall.

And, if you plan to sleep on it as well, make sure it has room to extend outwards on both ends.
5) How Much Weight Is Your Chair Designed to Hold?
One of the most compelling reasons to try your potential power lift chair is to ensure that you feel comfortable while seated and the movement of the chair is still smooth and easy.

Place too much pressure on the chairs mechanized "joints" or frames and you'll wear it away long before it should.

Luckily, lift chairs are designed with the seated user in mind. They can weight-bear for different capacities. So make sure you're choosing a chair that suits your personal weight threshold.
Conclusion
Lift chairs are the perfect sit-to-stand solution for anyone who has trouble getting up from their favorite chair.

Aging in your home shouldn't mean you have to sacrifice comfort for usability. Lift chairs give you the best of both worlds.

And when you consider your environment, needs, and everything else, you really can find the perfect chair for you.

If you're considering a lift chair, it's 100% worth your investment. It will bring comfort, rest, and mobility that will make you feel young again!