Top 5 Tips for Seniors Meeting Seniors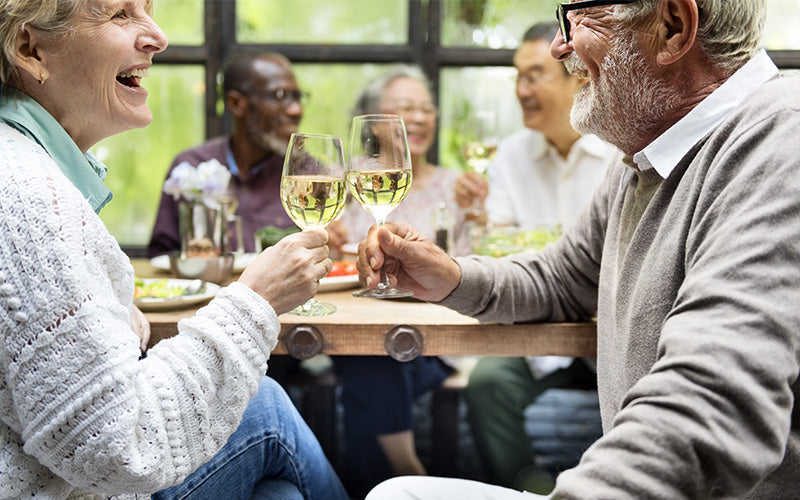 On the one hand, the senior life seems to be a bastion of good things. You can retire and still take up a part-time job to bring in some extra income. Your kids have left the nest and started their own lives. If you've saved while younger, you've got a good nest egg stored.

And now you have nothing but time on your hands.

But, as you arrive at the "golden city" of senior-hood everyone has been aspiring and building towards, you may find yourself unaccustomed to all this extra time. You may find yourself asking, "What do I do with all these empty hours?"

What was once a good thing — your children becoming independent and running their own lives — can quickly slip into darkness if you're not quite sure what to do anymore. The regular, day-to-day distractions are no longer there.

Senior isolation is a real issue that, with a little strategy, can easily be beaten. You don't even have to go far from home or the comfort of your favorite chair. You simply need to get creative. Aim to build acquaintances, and you might just end up with friends.

There are plenty of great places for seniors to meet people. These five should give you some good ideas on how to form those new connections.
1) Volunteer for a Cause Close to Your Heart
Once your family moves away, or your children leave home, you suddenly find that you have way more time to reconnect with the things that you find meaningful. If this sounds familiar, there are plenty of volunteer activities for single seniors that you should look into.

You don't have to volunteer with non-profits or align yourself with major causes you believe in. If you're just looking for something casual to get you started, volunteer to be a part of an event in town, which is usually a one-time commitment over a weekend. Or if you love animals, why not volunteer to re-home or foster-care for an abandoned animal, until they find their "forever home"?

To get started with volunteering, take a look at your local community center listings or visit your nearest YMCA. Volunteering is a wonderful way to get to know the people right in your backyard and build a small community where you can give back.
2) Join a Book Club (Or Start Your Own!)
If you're a bookworm or you've always wanted to turn the reading of your favorite books into a social activity, why not participate in a book club? Not only is this a great way to connect with like-minded individuals, but it's also a perfect setting for seniors meeting seniors.

There's probably nothing so calming and, somehow at the same time, engaging, as a great literary find. And it doesn't have to be a solo activity; fill your evenings with your favorite wines, cheeses, or finger foods.

Additionally, reading and active discussion keep you mentally sharp. So go ahead, turn the page on a new activity! If you can't find great senior book club groups to join in your area, start one.
3) Use Meetup.Com
It's time to pursue that hobby that you've always intended to take part in. Whether it's a form of physical activity, a niche activity like real estate investing or an actual hobby like knitting, this is the moment to go all in and connect with others over your shared interests.

Meetup.com offers social groups for seniors who are looking to commit to a regular schedule of activities. Senior meetups help you connect with new friends and individuals whom you might have never met before.

Just like a book club, commiserating over shared interests, activities or hobbies is even more engaging than the regular senior activities like bingo hall or community center. While there's absolutely nothing wrong with incorporating these into your weekly schedule, Meetup groups allow you to branch out of your everyday routine and try something new.
4) Offer Your Couch or a Room for Board
Seniors do very well when they're caring for someone or something else. It's why many old age homes introduce pets to seniors who have aged particularly fast or need help reconnecting socially. Pets offer a form of therapy, it's true, but even more fundamental than that, seniors who are engaged in caring and nurturing for others can find a sense of purpose in life again.

So why not take advantage of home-stay apps like Airbnb or Holidu to put your home up for a room share or offer a room rental? Not only can you make a little extra money, but you will also be able to fill up an otherwise quiet or empty home for a short time, welcoming others and hosting them.

Think about it this way: you're one stop on their long journey.

Home shares and room rentals allow you to meet individuals from all over the world whom you might not have had the chance to encounter before — nor ever see again.

Many individuals who travel are young to middle-aged couples and tourists who are looking for the comfort home and the knowledge of a local.

This is where you come in.

Not only can you connect these travelers to the hidden beauty in your hometown, but you can also share stories with each other, broadening your perspective of the world, no passport needed!
5) Take a Continuing Education Class
Maintaining mental sharpness is half the battle to aging gracefully. So consider taking continuing education classes or going for a second degree.

Many post-secondary institutions offer seniors the opportunity to undertake classes, tuition-free. Others simply allow you to audit the class, attending lectures and seminars, maybe even participating in assignments, without actually being graded or earning a credit.

Regardless of what kind of learning experience you're looking for, universities are great places for seniors to meet like-minded individuals.

There are plenty of "mature" status students on campus. Though you may not find anyone exactly your age, once you start collaborating over an assignment or being included in a discussion, you'll quickly realize how much more in common you have than you might have originally assumed.

The key to enjoying your "golden years" is to bring in a balance of play, rest, of socializing and solitude. Sometimes, all you want to do is kick back and relax at home where you are most comfortable and, other times, you crave social stimulation. Use these five places and ideas to connect with others and build a community around your life.

This is a new phase in life, so allow others to come in and help you navigate it. Who knows? You might yet discover something about yourself!