Top 5 Senior Halloween Ideas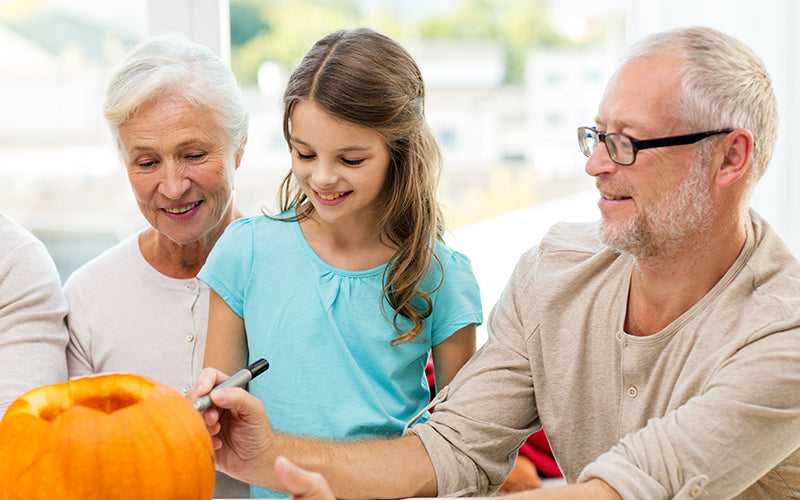 Many people think "trick or treating" is an activity reserved solely for kids.

But who says that you can't be young at heart?

The "spirit of Halloween," like any fun festivity or holiday occasion, is open to everyone who thinks play is a part of life — and that includes seniors. Getting actively involved and feeling a "part of" regular life activities can help seniors, who are much more vulnerable to social isolation, get in touch with friends and their inner youthful spirit.

So, rather than sitting around, why not head out yourself? You could accompany a grandchild as they venture out on their first trick-or-treating adventure, reminiscing of your own childhood experiences.

And if you don't (yet) have grandchildren or your own kids, and their spouses don't live in the same country, there are plenty of "senior" Halloween ideas you can use to amp up this annual night. Read on to discover our top 5 senior Halloween ideas to get you in the spirit.
1) Carving Jack-O-Lanterns
If you have limited mobility or you simply want to spend a quiet night in on your favorite chair, that is okay. There's no reason why you can't have some quiet, Halloween fun while sitting at home.

Simply pick up a couple of fresh pumpkins (which are usually ready for harvest by October) and gather your friends for a jack-o-lantern carving party. This senior Halloween craft is a great way to sit back, have fun and still work with your hands.

You can even have your friends "vote" on the best pumpkin carving. You get to decide on the prize.

When you're done carving, make sure to save the innards to make delicious homemade broth, soup, risotto, and even roasted pumpkin seeds.
2) Halloween Bingo
To run a "Halloween"-themed bingo, you'll need a couple of bingo cards and some fun stickers, stamps, and decorations. Head out to your local crafts store and find fall- and Halloween-themed stickers.

Decorate the table with some fake cobwebs and a boiling "cauldron" of a favorite mixed beverage. Once you've finished your game, you can also decide to give away some prizes to make it even more fun!
3) Make a "Spooky" Meal
Devil's food cake, spiced apple cider, and delicious butternut squash soup are great options for a Halloween meal. While these are not as "spooky" as they are sumptuous, your decorations will make them so.

Since fall is the time where many fruits and vegetables are harvested, you're spoilt for choice when it comes to bringing fall flavors together. Anything squash-like and walnut is usually a big hit. Pumpkin pie is a must, and you could even stuff "jack-o-lantern" peppers.
4) Run a "Classics" Movie Marathon
Here's another great idea for that senior who's also a homebody and can't think of anything they'd rather do than get cozy and curl up with a good book or movie.

Instead of simply "reminiscing" about your childhood, why not bring it back to life? You can decorate your place for a movie marathon and then have a few friends over to watch those scary movies you loved as a child but haven't seen in years.
5) Have a Costume-Making Contest
This one is a lot of fun and encourages you and your friends to get creative.

Pick just one household item – it can be toilet paper, garbage bags, and even crepe paper rolls. Then, find a few decorative supplies like glitter, stick-on eyes and silly-string.

Challenge the guests at your senior Halloween party to make their costumes out of nothing but these supplies! They can make crowns, witch hats, and even fancy dresses or shirts. You'll be surprised at what you're able to come up with.

Naturally, the best costume gets a prize.

These senior Halloween ideas should all prove one thing: The only opportunity missed is an opportunity not taken.