10 Benefits of Owning a Lift Chair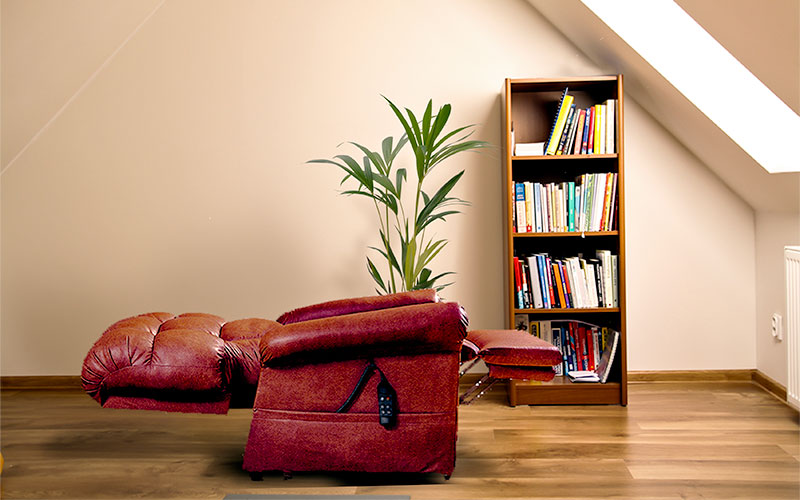 As you age, you may find that using a lift chair enhances your comfort and wellbeing. As a state-of-the-art product, the Perfect Sleep Chair allows you infinite positions for ultimate comfort. With each position comes an array of benefits, including better health and comfort. Learning more about these benefits will help you decide if a lift chair is right for your home.
Ease of use
The Perfect Sleep Chair comes with a handheld remote that allows you to move between each setting seamlessly. These parameters include Sitting; Lifting to leave the chair; TV watching; Zero-gravity for napping; A nighttime sleep-friendly position. The lift chair's control has six buttons, which you can use to tweak your positioning until you feel comfortable. Each button comes with an illustration, so you'll remain clear on what it does.
Making postural hypotension safer
With 10-30 percent of seniors experiencing postural hypertension, which causes a sudden and abrupt spike in blood pressure, you may worry about falling over due to an unexpected increase in blood pressure. Using the Perfect Sleep Chair, you can rise slowly, giving your blood pressure a chance to stabilize and reducing the risk of fall-related fractures. This lift chair allows you to delicately control how quickly you rise, allowing you to fine-tune the experience to your degree of hypotension. Similarly, you can adapt your approach following medication changes.
Reducing edema
As you age, various parts of your body begin to work harder to keep you healthy. From your kidneys through to your heart, each one has the potential to cause edema, which you may also refer to as swollen legs. In addition to making it difficult to mobilize, edema increases your risk of ulcers and causes itching, so you may struggle to sleep. Using a lift chair, you can raise your legs to encourage fluid to move back to your heart, reducing edema and making life more comfortable.
Relieving pressure sores
More than 2.5 million people develop pressure sores in the U.S. each year (according to the Agency for Healthcare Research and Quality) and each one, no matter how small, increases your risk of infection. One of the simplest ways to prevent pressure sores is through moving around. However, if you struggle with mobility or encounter an injury, this isn't always easy. Using the Perfect Sleep Chair, you can change your position throughout the day or use the lift position to rise from the chair and get your blood pumping. Pressure sores are most likely to occur in areas where bones push against the skin, such as your heels and lower back. Moving these areas throughout the day distributes pressure to other places, keeping your skin intact.
Increasing independence
In addition to postural hypotension and edema, recent fractures and osteoporosis may reduce your independence, too. Multiple studies demonstrate how maintaining your independence reduces your risk of chronic disease, as well as anxiety and depression. The Perfect Sleep Chair features countless postural positions, each of which adds freedom to different areas of your life. With the click of a button, you can go from sleeping to sitting, allowing you to take naps at your leisure without having to worry about assistance from others. Similarly, the lift setting helps you rise steadily.
Reducing the risk of injury
With steady rising comes a smaller risk of injury, both for you and those who usually support you to stand. The lift chair helps you shift into a position that makes it simpler for others to lift you, plus it reduces muscle spasms. With fewer contractions, you're more likely to maintain control once you're on your feet, which means you're less likely to hurt yourself. If you suffer from a condition such as osteoporosis or you have a joint replacement, you can spend less time fretting about broken bones and more time enjoying life around your home.
Safer napping
With the Perfect Sleep Chair, you can use the 'zero gravity' position to enjoy a safer nap. Featuring the right dips and curves that allow your spine to align, zero gravity makes napping comfortably and safely simpler. As well as aligning your spine, it enhances your circulation. With a stronger circulation, you deliver oxygen and nutrients to essential organs, while reducing the chance of developing an ulcer. Regarding logistics, this lift chair benefits from strong sides and materials that mold around your body. Because of this, you're less likely to fall out mid-nap, no matter how much you move.
Inducing relaxation
In addition to making napping safer, the zero-gravity position of this sleep chair allows for deeper breathing. With a position that helps your lungs to open fully, while aligning your spine's vertebrae, you benefit from larger breaths. Whether you actively engage in deep breathing exercises to wind down or passively benefit from it as you sleep, you'll encounter a reduction in stress levels.
Reducing muscular aches
Whether your back is sore, or your shoulder feels tight, muscular aches affect many areas of your life. For example, those who suffer from back pain may experience a bad night's sleep. Similarly, tight shoulders can prevent you from comfortably resting as you chat with friends or watch TV. The Perfect Sleep Chair comes with multiple massage settings that can enhance your circulation and tackle the pains that come with tight muscles. At the same time, you can use the multiple heat settings of this lift chair to increase vasodilation, which enhances your blood flow. With better blood flow comes fewer inflammatory markers, which in turn means less pain. By using the Perfect Sleep Chair, you bring yourself a step closer to a pain-free life.
You can find a chair that matches your size
The Perfect Sleep Chair comes in an array of sizes and multiple fabrics. Not only does this allow you to choose a lift chair that's aesthetically pleasing, but it also means you can find one that matches your height. Ultimately, having a lift chair with the right height is essential if you want to experience all its safety and health benefits, as it allows for better positioning and safer mobilization.

Whether you need a better night's sleep or you're seeking a comfier way of life, using a lift chair comes with multiple benefits. With enhanced health and more rest, you can get the most out of your senior years, while enjoying an attractive new feature on your property.